Almost every online business wants a responsive website design today. It's practically a necessity in itself – a design for tablets, iPads, iPhones, smartphone, netbooks and Kindle.The speed at which the online market is growing today, the day when we find ourselves designing websites for many additional inventions in the next few years will not be so far in sight, given the rate our technology is improving.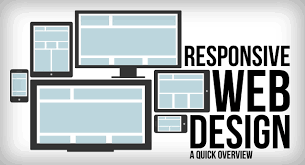 According to recent research more than 40% of Google searches originated from smartphones.For a majority of websites, building a website version for each new device or resolution would be impractical. But! Do you think we can afford to lose on important prospects originating from different platforms? No.

A responsive website design is the ideal approach when it comes to online marketing. It is a necessary element in promoting your business online. As mentioned earlier, the number of mobile users has been steadily increasing over the years. Mobile users have come to take up a huge percentage of total internet users no matter the purpose- whether it's for online shopping or information gathering. This makes the importance of having a mobile optimized site more and more important, since users are likely to leave if the web interface is inconvenient to navigate.

Having a responsive website design is one of the smartest ways to move towards the future. It offers a great interactive user experience. It also offers an attractive view of a website, regardless of the device a web user may be using. Apart from that, there are other benefits including:

Unlike traditional websites, these responsive designs enable the content to be spread accordingly without disturbing other elements so no matter what device you're using, it will be easily legible.

Responsive website design is the future, and keeping your best foot forward enables you to grow with the technology.

A responsive design helps in reaching a wider market since the majority of people use their smartphones and tablets to search required information online.

Getting a responsive website is cost-effective, and offers a number of opportunities for your business to grow.

How could responsive website design help your business reach new heights?

A responsive website will display your website's pixel faultlessly across various platforms, which means, your website content will be arranged according to the different screen sizes. In addition, you no longer need to write different codes for varied platforms, even if you make any updates to your existing website. All you need to do is to integrate the updates to the code once and see the reflection across all platforms.

Whether you are planning on starting an online business or already have an existing one, it is always advisable to create a Responsive Website Design Singapore in order to attract an increasing number of prospects.